Calgary Best Tile & Grout Cleaning Experts
Grout Repair - Grout Sealing
Chemical Free, Odor Free, Quick Dry
Experts in Ceramic, Granite, Limestone, Marble, Porcelain, Quarry, Travertine, Slate cleaning etc.
Commercial Cleaning Services
Premium Office Cleaning Service
Contact our expert staff for a quote Today!
We offers professional commercial cleaning services to businesses in Calgary surrounding regions.
Calgary Professional Floor Waxing
Floor Stripping, Polisher, Scrubber, Buffer & Waxing
Ultimate solution _ hard surface Maintenance VCT tile.
Oxy-Genie: Your One-Stop Tile & Stone Professionals
Oxy-genie is your tile and stone care specialist in Calgary, caring for all floor and wall tiles. Originally from a background of carpet and upholstery care, Oxy-genie soon realized that there was a real need for quick and professional care of all tiles and stone, particularly maintenance and restoration. Oxy-genie now fills this demand and has become your tile and stone experts, providing qualified, experienced, and reliable cleaning and repairs of all tiles and stone, including grout.
Oxy-genie is your local professional for all tile and stone care, and no job is too big or too small for us. We're so confident of our workmanship that we offer obligation-free demonstrations and quotations. We're happy to answer any questions at all about our services so please don't hesitate to contact us.
Tile Cleaning Service
We offer a professional Tile Cleaning service to ensure that your tiles and stone always look beautiful, and clean: we'll protect them from damage and maintain them so they always look like new. Whether in your business premises or private homes, keeping tiles and grout clean and well-maintained in washrooms is always a problem, but you don't have to be concerned about this any longer. That's what we do, and we're here to help. We're professionals, we're reliable, and we're experienced in what we do. You shouldn't be wasting your precious time scrubbing floors and cleaning tiles when you lead such busy lives, and now you don't have to. We're at your service! Give us a call and let's discuss your cleaning needs.
Grout Cleaning
In order for your home or workplace to look clean and maintained it's important to clean grout lines on a regular basis. This can be a lengthy and difficult process, and one we're more likely to put off because it's so time-consuming. But not for us! We've got all the right tools and equipment and we can have your grout looking spic and span in no time at all.
Oxy-genie has been providing grout line cleaning services in Calgary and surrounding districts for many years, and we have many, many satisfied repeat customers. Our aim is to ensure that each and every one of our customers is more than satisfied with our service, and our cleaning and repairing capabilities. Your health is of concern to us and many people choose to have their home or office cleaned by Green cleaning solutions, whereby we use only natural cleaning products. We care about you and your health, so not only are we able to provide natural cleaning products and solutions, but we can also save you a lot of time and work.
Tile Sealing
We're the specialists in Calgary when it comes to Tile Sealing. Sealing tiles is not a job anyone looks forward to – except us, that is! Ideally, your tiles would have been sealed after installation; however that's not always the case. The result is dirty and discolored tiles which spoil the look of any room. It's a huge job to steam clean dirty grout, but unless the grout is cleaned your tiles will never look beautiful (like they did when they were first installed). This is a job that we're very experienced in handling and we're happy to tackle this job for you. Contact us today, and let's discuss your grout cleaning problem. We're here to help you, and this is a job we do very well!
Grout Colour Staining
Once grout has become permanently discolored there's not much you can do as far as cleaning goes, even with the toughest chemicals. The discoloration is there to stay, leaving you with a room that's less than beautiful. At Oxy-genie we use Grout Staining products and permanent Grout Sealers to prolong the life of grout joints and drastically reduce cleaning and maintenance. And best of all - your room will look beautiful again! Your once-discolored grout joints will be sealed and rejuvenated, and our system ensures that you will have maximum protection against further grout discoloration.
You can change the color of the grout without having to replace it
The elimination of mildew, discoloration, and stains;
Your faded or outdated grout can be restored to new
Broken or Damaged Tile Repairs
It's only natural that at times there will be problems with broken or damaged tiles. Unfortunately damaged tiles look terrible, but worse than that they allow moisture to penetrate into sub-floors and walls, leading to damp and ultimately mold. This is not a situation that should be allowed to continue, because mold can be catastrophic to a building.
Call us today and we can offer immediate help with this problem. Tiles are very strong, yes, and they can certainly handle a lot of rough traffic - but they're not indestructible and accidents do happen. If you have problems with broken or damaged tiles, give us a call. We can help! Our service is second-to-none and we're always on time, so you can feel confident that we will take very good care of your needs.
RECENT JOB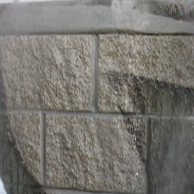 Calgary Concrete Cleaning High Temperature/High Pressure
VIEW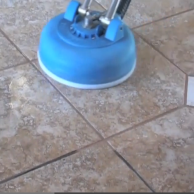 Clean and seal kitchen floor tile and grouts.
VIEW
Patio Concrete, Wooden Decking Contact Us Now...
VIEW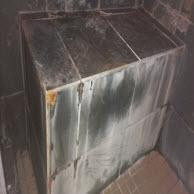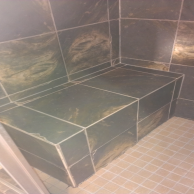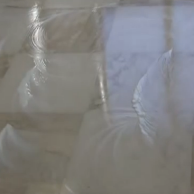 Stone Polishing in Airdrie, Okotoks, Chestermere, High River, Bragg Creek...
VIEW
Unsightly Dirty Grout
Is There a Solution to Unsightly Dirty Grout and Tiles in Calgary Alberta?
Finally we have an effective solution to this problem. New equipment and technology have been developed, together with a range of amazing eco-friendly cleaning products to further improve our system's efficiency. Learn More Now
OUR SERVICES
Floor Waxing
Grout Cleaning - Sealing
Driveway Cleaning - Sealing
Grout Repair
Commercial Office Cleaning
Concrete Cleaning
SERVICE AREA
Calgary
Airdrie
Cochrane
Chestermere
Okotoks
High River
© Hard Surface Care Calgary 2015 - Rights Reserves |by Keniem